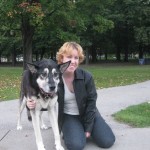 Dianne Eibner has devoted her life to caring for animals. Dianne has been a professional dog walker since 1990 when she started with two sheepdogs Cindy and Snow and is the owner of Jog-A-Dog dog walking and dog boarding.
Dianne is the founding member and Past President of The Professional Dog Walkers Association International which was established in 1997. Today, known as Professional Dog Walkers Canada, it continues to promote excellence, integrity and professionalism within the pet care industry. To list on www.prodogwalker.com you must have acquired specific credentials and sign the contract to uphold the Code of Conduct and Ethics.
She is also a Member of The Canadian Association of Professional Pet Dog Trainers.
Credentials include: Certificate in Pet First Aid, Certified Evaluator of the Canadian Canine Good Citizen Test, Published Author, Trainer, Advocate and Entrepreneur. She has also been a promoter for bands as a radio tracker.

She is the author of The Face in the Window – a guide to professional dog walking which was nominated for "Best Short Book" by the Dog Writer's Association of America.
She has been an advocate for professional dog walkers since she noticed that the pet care industry was growing in popularity. She realized that a distinction needed to be made between those who were conducting their businesses in an ethical, responsible and respectful manner and those who were not.
Dianne has been to numerous City Hall Meetings in the past making deputations on the subject of professional dog walking and enlightening City Council that one must have hands on experience and a background in dog training to be deemed professional. Dianne has lobbied for off leash parks to be implemented and the preservation of green space throughout Toronto and surrounding areas.
In addition to being a published author, Dianne has written many articles for newspapers and pet magazines, including Pets Quarterly and City Dog. Over the years her passion for writing has turned to fiction. She recently completed a treatment of a musical she wrote for The Offspring called SMASH – The Punk Rock Musical. Read by all the members of the band, with consideration. Continuing, she enjoys writing (some dog themed) short films and a feature in the genre of romantic comedy.
My dog Kylie was cast in this short film. Kylie stars as Milo in this wonderful and quirky film by Andrew Hull. Kylie received a full screen credit for the character of Milo and I received a screen credit for "dog wrangler." The cast and crew were amazing and Mary Margaret O'Hara was so sweet to both me and Kylie. It was truly a great experience and I love that I have this awesome keepsake.
Here are the specific clips she was in:
You can watch the full film by clicking on the picture below.
Click on the photo to view the first half of the film. You can view her clip at 2:00 minutes in and again in the second half HERE from the start until 1:17.
R.I.P my Princess Kylie of the Tall Grass
June 1999 – Sept. 28th 2010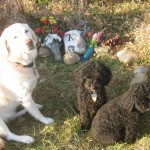 Certificates and Awards