Sleepover Boarding
$45 for one dog and $55 for two (from the same household)

Click

HERE

for the information sheet.
Sleepovers consist of day and overnight supervision in a home environment rather than a typical "kennel" style.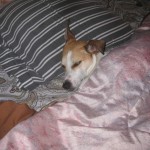 Your dog must be well socialized and friendly with other people and pets. Your pet needs to be up to date on his/her shots.
First time boarders are given a slower integration into the pack and have extra supervision until a comfortable stance is established.
Our boarding facility is located in a country setting just outside the town of Lindsay.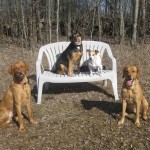 Please have a look at the Photo Gallery.
WE CAN COME TO YOU – A door to door shuttle bus is provided to certain areas, when it is applicable. A round trip fee of $20 and one-way trip of $15 applies. Drop off and pick up locations in Toronto can be arranged.
Our guests always enjoy at least, three walks a day on the 16-acre field with groomed trails, hills and a fenced yard in which to relax. We venture out every few hours throughout the day to walk through the entire field which is usually four to eight walks a day. The walk time is the length of about 30 minutes to an hour.  My dog walking groups are small. On average there are six dogs at a time as I like to keep the care and supervision on a personal, intimate level.
Nighttime is spent indoors in the lounge area where our dog guests choose a quilt to curl up on or sleep on their own bed that you provide.  Or, they will take over the couch and my bed.
Feeding time is according to the schedule that you provide. Otherwise we eat breakfast and dinner.
The dogs will usually wake me up at 6am for breakfast and dinner is usually served at 5pm or 6pm.
YOU MUST SUPPLY YOUR DOG'S OWN FOOD PLEASE.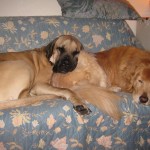 Check in and Check out times may vary and half-day rates may apply
Digital Postcards of your dog at play during their stay are provided via e-mail and video updates too! 
A toll-free number is supplied for your convenience so you can call and check in or your pet while away.
1-800-275-0910
IF FOR SOME REASON THE NUMBER WILL NOT WORK IN THE AREA YOU ARE CALLING FROM PLEASE CALL ME ON THE OTHER NUMBER LISTED BELOW.
647-296-3647
Click HERE for the information sheet.